The 2023 ASLA National Conference: Scale Up was invigorating to say the least… and we don't just mean the temperatures! This year we were in Minnesota and, while 20-30 degree temps took hold the day the conference began, we had nothing but warm feels inside the convention center. It was wonderful to connect with colleagues far and wide, and to inspire and be inspired.  
Noah Halbach and I co-led a (sold-out!) field session called Tour de Minneapolis Bike Infrastructure. Thank you to everyone who came along for this adventure through a wide array of bikeways in Minneapolis. 
The following are a few themes and ideas from ASLA 2023 that we will carry with us into 2024 and beyond. 
Community Engagement in the Design Process: Moving at the Speed of Trust 
This is a perennial topic (as it should be!) and this year there were some great examples and words of wisdom we'll continue to think about and center in our work. The idea of "moving at the speed of trust" came up in a few different conversations and serves as a reminder to develop engagement processes that are meaningful, authentic, and focused on long-term relationship building. Designers come and go, but the relationships we can help build between disparate communities or agencies are as important as the implemented design.
Climate Change: Action and Impact in the Design Process
In a number of climate-related sessions, presenters shared their herculean efforts to reduce the carbon footprint of their projects. These efforts include very careful measuring of the climate impacts of construction, material choices (and recycling of on-site materials), and ongoing maintenance. Others shared how they're doing this in daily business practices as well as project work. These sessions were a good reminder to review our own practices and processes and continue to share how we are meeting the climate change call to action.
We also challenge our colleagues to think of ways to promote climate-friendly transportation. The transportation sector is responsible for up to a third of greenhouse gas emissions, and landscape architects can amplify their impact by promoting and integrating climate-friendly transportation options in projects.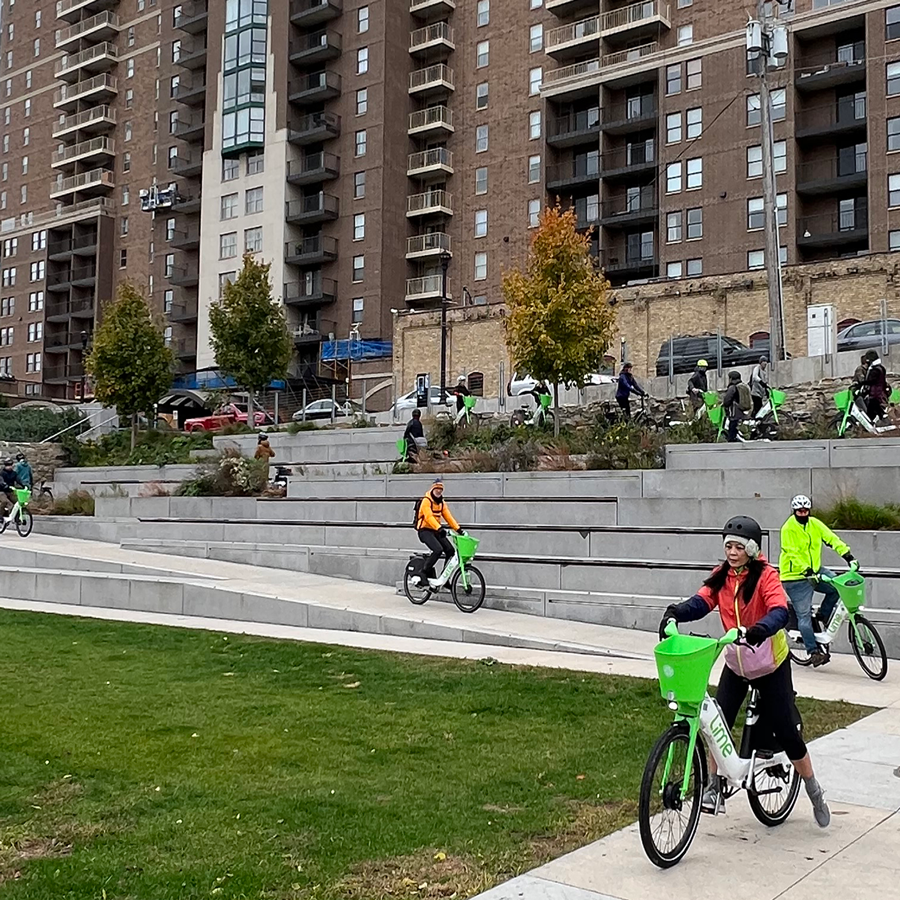 Inclusive Design: Moving Beyond ADA
In our field session and other sessions, designers shared ways in which inclusive design is becoming integral to project delivery — it's not an afterthought and it's not an inconvenience. When we see accessibility as an opportunity to get creative, the solutions can be even more meaningful and impactful. We have to be intentional about who is — and feels — invited to design discussions and move beyond bare minimums that were set in 1990. If you haven't had an opportunity to yet, take a look at Alexa Vaughn's work Deafscape.
Cause for Celebration: Jennifer Toole, ASLA Fellow
I attended the investiture ceremony for new ASLA Council of Fellows, which included Toole Design President Jennifer Toole. Jennifer has broadened the aperture for the profession of landscape architects in incredible ways, and it seems fitting that she has received this honor in the same year we are celebrating Toole Design's twentieth anniversary. 
Thank you to all who attended our bike session and tour, who said hello, and who inspired us with their designs (and words!) of wisdom. 
What were your takeaways? We'd love to hear them.